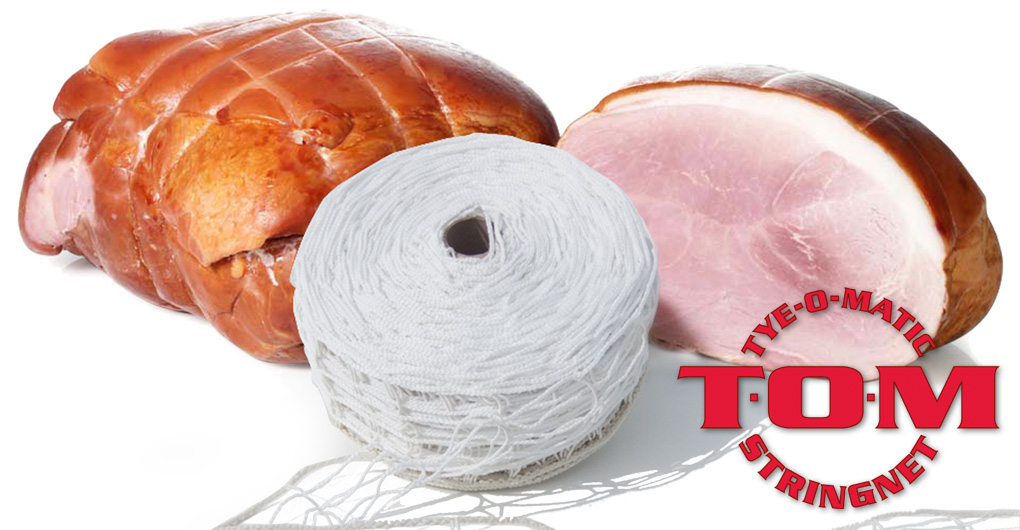 Ham Net
TOM STINGNET FOR HAM Elasticated Netting Tom StringNet is specially developed to replace laborious hand stringing. The processing is many times faster than with an automatic tying machine. This net has a 100% traditional handmade look. This net can also be sliced and the string will stay on the slice part of the meat. High tension single or double stinging. You can cut joins and the string stays on the sliced meat. Available in all sizes and colours.
TOM Stringnet for ham
This NET is designed for packaging of traditional smoked ham, but can also be used for packaging of cooked and raw ham. The main advantage is an excellent imitation of handmade- stringing meat Tenderloins, creating a very traditional product appear as a traditional product. 40 x faster processing speed compared with handmade products and 20 x faster than a tying/stringing machine.
Specifications
Available with 3 to 21 stabbing between rubber threads
Heat resistance: COTTON STRING relief - up to 240 degrees Celsius
POLYESTER STRING relief - up to 240 degrees Celsius
Raw material: food grade cotton or polyester yarn and food grade rubber threads for the food industry
Number of rubber threads: 1 as standard, and depending on the needs of a customer - 2 or 3 rubber threads
Available colors: cream in the case of cotton STRING settlement agreement in case of settlement agreement POLYESTER STRING white polyester yarn + rubber thread coated with white, red, yellow, green, orange, blue or black polyester yarn
Number of meters on a roll: 50 meters as a standard machine or another client on request
Available in rolls 50 or 100 mtr . Diameter TomStringNet 80 to 240 mm.