TOM Stringnet
TOM is one of Dutch leading producers of machinery and equipment for meat industry and can offer wide range of products known in 15 European countries, USA and Canada. Through a practical knowledge of meat processing technology, we have developed fit for use machines and systems, which receive full recognition from meat processing companies. They comply with all hygiene standards and bring benefits from production quality as well as economic results.
Using TOM equipment and Tomstringnet
TOM Stringnet TomStringNet TOM StringNet – elastic mainly used for packaging of traditional smoked meat products. The main advantage of this net is construction that allows to eliminate manual or machine tying processes. For proper application the application of the netting a tube is recommended. TOMStringNet is designed for use in the production of traditional smoked ham, tenderloins and also for packing cooked ham, raw ham and other meat products. Gammon production.
Advantages
A real breakthrough in smoked meat and ham production
Fast and time-saving and fasters then a full automatic meat stringing machines
Process can be accelerated up to 20-times in comparison to Meat tying machines
Increases production efficiency in comparison to manual tying
Regular and recurrent appearance of the product
Possibility to slice, the netting remains on the ready product
Possibility to make loop at the end of the netting
For production of traditional smoked hams, loins, it can be used as well for packaging of cooked and raw hams and other meat products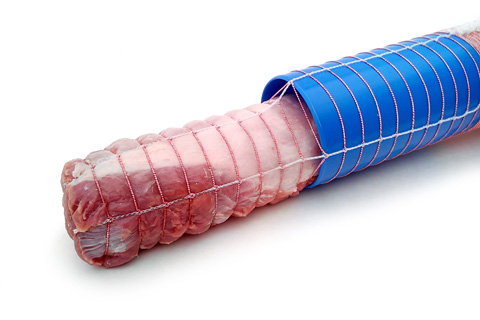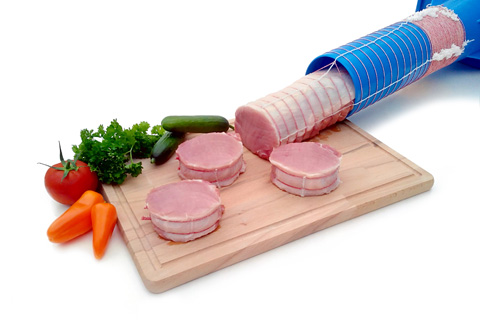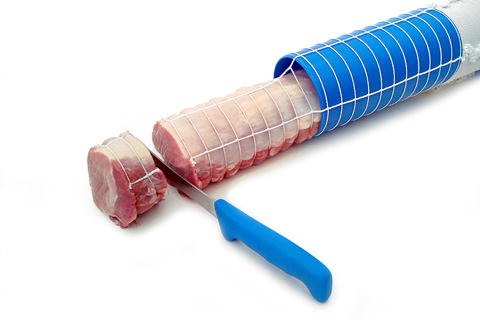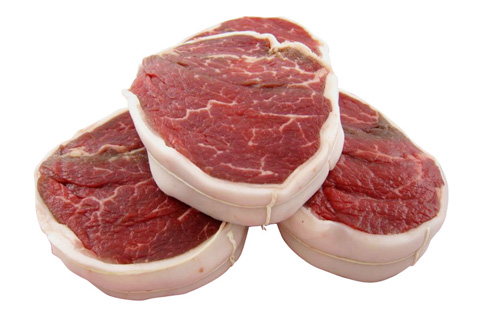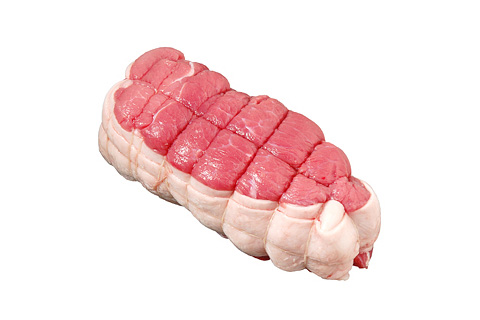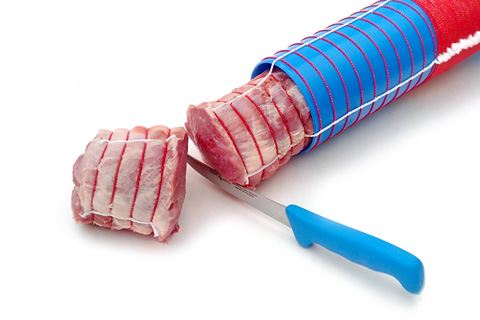 Technical specification
Available types depending on the number of stitches between the rubbers: from 3 to 21 stitches
Caliber range: from 80 to 240 mm
Temperature resistance: up to 240°C
Method of filling: using manual and pneumatic applicator directly on the product
The number of rubbers: 1 (depending on the customer's needs: 2 or 3) rubbers
Available colors*
Warp - white or red and on request possible combination (interleaving) of both colors in vertical thread
Thread (rubber) - white and red, in the case of larger orders: yellow, green, blue, black
Number of meters per roll: 50 running meters (depending on customer needs - 25, 100 and others)
---
Net Loading Equipment, AUTOLOADER, Meat Netting Equipment, stringing Gammon meat, gammon meat processing, Gammon Productions, Gammon Steak, meat tying machines, meat stringing machines, String Tying Machines,loops and clips, stringing and netting machines, pneumatic netting machine, netting parma, netloader, net loader, netjet, rolled meat knotting machine, meat-tyer, string tying, Meat Processing Equipment, tying beef, tying pork, Meat string, meatbind for beefjoints, lambjoints, porkjoints, special ham twine, hamjoints, stringing pork , Butchers Twine, Meat Tying String, stringing beef, stringing pork, meat netting, netmachine, meatnet, Hellasnet , elastic meat netting, elasticated meat net, elastic stringnet, stringing and netting machines, chicken loops and clips, meat tying twine, meat string, tie beef, tie pork, tie a pork, tenderloin, Tie Stuffed Pork Roast Loin.